When you open a bottle of wine and pop out the cork, you might not think twice before tossing it into the trash. However, if you're a craft lover or a sustainability enthusiast, you know that the humble wine cork holds immense potential for creative upcycling.
This post is all about turning these tiny pieces of natural material into unique, eye-catching elements of home décor that will not only add a rustic charm to your spaces but also contribute to a greener planet. We have curated a list of 9 innovative cork crafts that range from stylish accessories to functional items, all designed to beautify your home.
1. Upcycling Wine Corks: Creative Ideas for Home Décor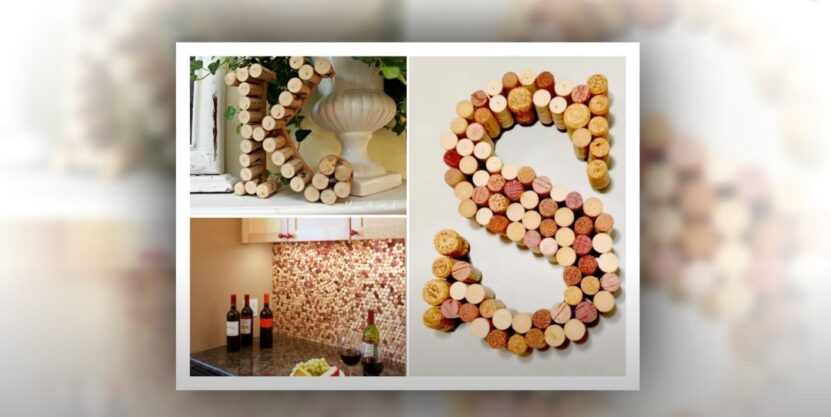 Upcycling wine corks is not just about being creative; it's also about contributing to sustainability. According to the Environmental Protection Agency, an estimated 7.6 billion units of glass containers, including wine bottles, were generated in 2018, a majority of which ended up in landfills. By turning wine corks into stylish home décor, you are helping to reduce this waste, making your home more eco-friendly.
One of the simplest ways to upcycle wine corks is by creating a decorative wreath for your door or wall. Start by arranging the corks in a circular shape and gluing them together. You can then add artificial flowers, ribbons, or any other embellishments of your choice to give it a festive look. This rustic wreath will not only enhance the aesthetic appeal of your home but also make a statement about your commitment to sustainability.
Another unique idea is to create a wine cork mirror frame. This project involves gluing the corks around a plain mirror in any pattern you like. The result is a unique, stylish mirror that adds a touch of elegance to any room. You can even paint the corks in different colors to match the décor of your room. The possibilities are endless when you have a handful of wine corks and a little imagination.
2. Coasters: Stylish and Functional Accessories for Your Table
A coaster is an indispensable accessory for any home, protecting your precious furniture from water rings and stains. With wine corks, you can create your own set of stylish and functional coasters. Cut each cork into slices, arrange them on a flat surface, and secure them together with a durable adhesive to create a circular or square coaster.
The natural texture and patterns of the cork make these coasters visually appealing, while the material's absorbency ensures they are highly functional. Plus, being heat-resistant, cork coasters are perfect for both hot and cold beverages. And don't worry if they get stained over time – this will only add to their rustic charm.
Making your own coasters can be a fun and engaging project. Involve your kids or friends, and you can have an entertaining crafting session. It's also a wonderful opportunity to make personalized gifts for your loved ones, imprinting your creativity and thoughtfulness onto each piece.
3. Bulletin Boards: Organize and Display with Style
In our digital age, the charm of a physical bulletin board is unbeatable. Whether it's to organize your thoughts, display cherished photographs, or pin important reminders, a cork bulletin board serves multiple purposes. Besides, a handmade bulletin board gives a personal touch to your workspace or home, reflecting your style and personality.
To make a cork bulletin board, arrange the corks on a flat wooden board in a pattern of your choice and then glue them down. You can either leave the corks as they are for a natural look or paint them in different colors to match your room's décor.
You can also create mini bulletin boards by gluing corks together in small groups. These can serve as a cute and practical way to display photos, notes, or business cards on your desk or kitchen counter. The versatility of cork bulletin boards makes them an excellent addition to any room in your house.
4. Cork Planters: Bringing Greenery into Your Living Space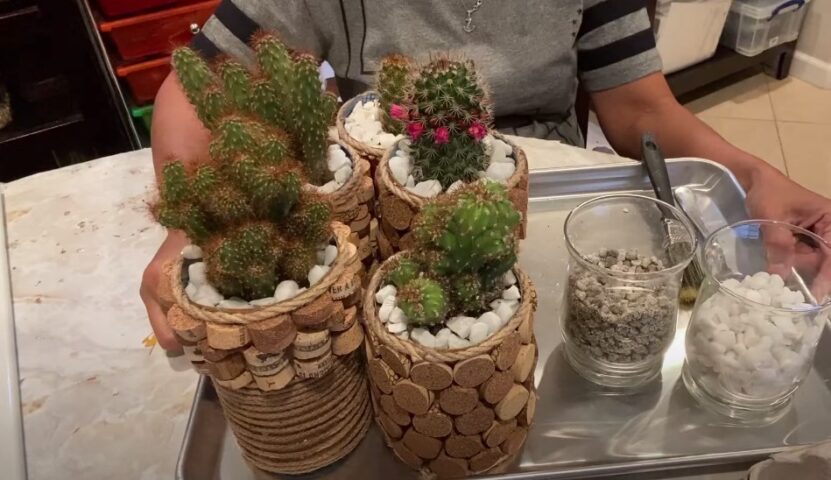 If you love having plants around your home, cork planters are a wonderful way to display them. Making a cork planter is simple yet rewarding. Start by carving out the center of a cork to create a small cavity. Fill it with soil and plant a tiny succulent or air plant inside. These mini planters can be placed on tabletops or attached to a magnet and displayed on your fridge or a metallic board.
On a larger scale, you can also create a wall-mounted cork planter. Simply adhere a collection of wine corks onto a wooden or metal frame and then carve out small cavities in each cork. Plant succulents or other small plants into each hole and hang the frame on a wall. This vertical garden adds a breath of fresh air to your living space, literally and figuratively.
Cork planters are a testament to the fact that beautiful things often come in small packages. Plus, they are a great conversation starter when you have guests over, showcasing your innovative use of everyday items.
5. Trivets: Protecting Surfaces with a Touch of Elegance
Trivets are essential kitchen accessories that protect your countertops and tables from hot pots and pans. With their heat-resistant and durable properties, wine corks make excellent materials for DIY trivets. Plus, cork trivets add a touch of rustic charm to your kitchen, combining functionality with aesthetic appeal.
To make a cork trivet, simply arrange the corks on a flat surface in the shape of your choice and then glue them together. You can create a circular, square, or even a heart-shaped trivet. If you want to add a personal touch, consider carving initials or a small design onto the corks before assembling them.
Whether you're cooking a family dinner or hosting a dinner party, these handmade trivets will not only serve a practical purpose but also add a personalized touch to your kitchen décor. The best part is that you can make them in any size, depending on your needs.
6. Wall Art: Expressing Your Creativity on the Walls
Wine cork wall art is a unique and creative way to express your artistic side. The three-dimensional texture of the corks adds depth and interest to your walls, making them a focal point in any room. You can create any design or pattern, ranging from abstract shapes to a detailed world map.
One popular idea is to create a monogram wall art. Simply trace the outline of your initial onto a flat board, and then glue the corks inside the outline. You can leave the corks as they are for a rustic look or paint them in a color that matches your décor.
Another idea is to create a cork mosaic. This involves cutting the corks into slices and arranging them on a flat board to create an intricate design or image. Whether you want a simple geometric pattern or an elaborate scenery, the possibilities are endless.
7. Keychains: Personalized Accessories for Your Keys
Keychains might be small, but they are one of those everyday items that can be easily personalized. With wine corks, you can create unique keychains that showcase your creativity and style. These cork keychains are not only aesthetically appealing but also durable and lightweight, making them perfect for daily use.
To make a cork keychain, drill a small hole through one end of the cork and attach a key ring. You can then personalize the cork by carving your initials, drawing a small design, or even adding a touch of color with paint.
These DIY keychains make great personalized gifts for your friends and family. Plus, they are a fun and easy project that you can complete in just a few minutes, making them a perfect activity for a lazy afternoon or a crafting party.
8. Jewelry: Handmade Adornments with a Natural Twist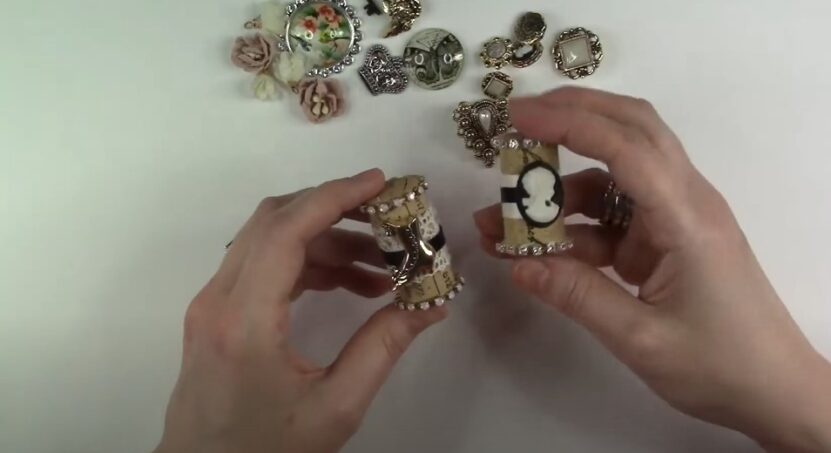 If you're a fan of handmade jewelry, wine corks offer a unique material to work with. The natural, earthy look of the cork adds a unique twist to earrings, necklaces, and bracelets. Plus, because each cork is unique in its pattern and texture, every piece of jewelry you create will be one of a kind.
To make cork jewelry, you'll need to slice the corks into thin disks and drill a small hole through each one. You can then string them together to create a necklace or a bracelet or attach them to earring hooks to make a pair of dangling earrings. If you want to add a pop of color, consider painting the cork slices in different shades or adding small beads in between.
These cork jewelry pieces are not only stylish and unique, but they also tell a story of creativity, sustainability, and personal style. Whether you're wearing them yourself or gifting them to someone, these pieces are sure to be a conversation starter.
9. Candle Holders: Adding Warmth and Charm to Your Home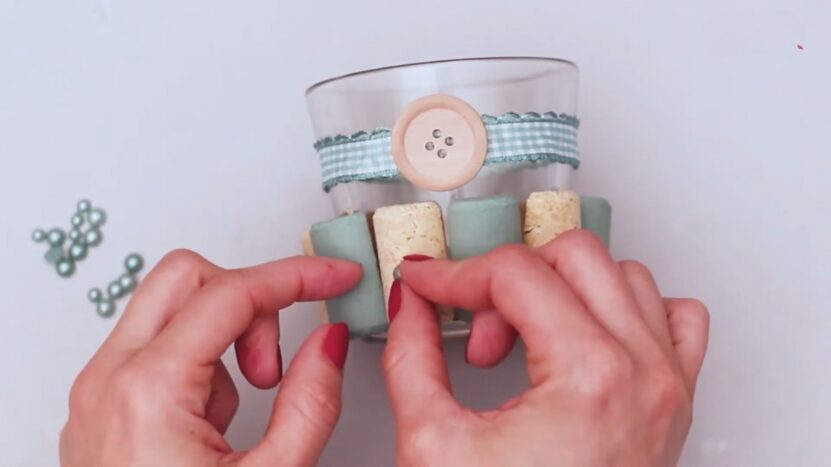 Candle holders are a classic home accessory that adds warmth and charm to any space. With wine corks, you can create unique candle holders that add a rustic touch to your home. Whether you're setting up a romantic dinner or just enjoying a quiet evening at home, these candle holders will set the perfect mood.
To create a cork candle holder, arrange the corks around a glass jar or a candle and secure them with a strong adhesive. Once the glue has dried, place a tea light or a small candle inside the jar, and you're done. You can also decorate the corks with ribbons, paint, or glitter to add a festive touch.
These cork candle holders are not only beautiful but also practical. The cork acts as a heat barrier, protecting your surfaces from heat damage. Plus, they are a great way to reuse wine corks and contribute to a more sustainable lifestyle.
Closing Thoughts
The humble wine cork, often overlooked and discarded, has a world of potential waiting to be unlocked. As we've shown, with a bit of creativity, patience, and love, you can transform these tiny pieces of nature into beautiful and practical items that enhance your home décor.
From stylish coasters to unique jewelry pieces, these DIY cork crafts are a testament to the power of creativity and sustainability. They showcase not only your artistic side but also your commitment to a greener and more eco-friendly lifestyle. And the best part is these projects are fun, easy, and highly rewarding.
So, next time you pop open a bottle of wine, don't toss away the cork. Instead, add it to your collection and let it be a reminder of the creative adventures that await you.
Unleash your creativity with these extraordinary DIY crafts using egg cartons, showcasing imaginative ideas that will leave you inspired to transform everyday materials into stunning works of art